April is National Volunteer Month. While there are many different kinds of volunteer opportunities, we want to thank those who participate in clinical research. Without their selfless contributions, medical advances would cease to exist. We are encouraging everyone this April to thank a volunteer. If you can, consider being a volunteer for clinical research.
National Volunteer Month
April is a month dedicated to honoring the significant contributions volunteers make when they generously donate their time and efforts to worthy causes. Volunteering has many personal benefits, such as reducing stress and improving depression symptoms. Essentially, it enables you to help others while improving your overall well-being in the process.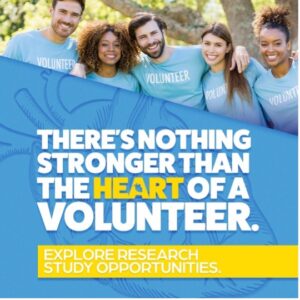 In his 1989 inaugural address, President George H.W. Bush's vision of 1,000 points of light was shared with the nation. It is the world's largest organization dedicated to mobilizing volunteers across the country. Its mission is to encourage millions of people to act and change the world. Get involved in your community through one of the many events happening this month. National Volunteer Week occurs yearly in the third week of April. For 2021, it is April 18 – April 24.
Anyone, Anywhere, Anytime:
Though our passion is for clinical research, anyone willing and able can volunteer anywhere. Food banks, mentoring, clothing drives, and donating blood are some of the many ways to donate your time. You don't have to have any unique talents, just a giving heart.
Clinical research is another worthy cause for those looking to give back. Research studies pave the way for potentially new ways to detect, treat, and prevent different medical conditions. By participating in research, you can help improve healthcare and:
Learn more about your condition
May gain access to new therapies not available to the public
Receive care more often than through routine services
Potential reimbursement for time and travel
Cedar Health Research would like to extend a humble thank you to the volunteers who have participated in our clinical trials over the years. To learn how you can get involved with our currently enrolling studies, call (214) 253-8170, or visit our website.